LS2 ADVANT X CARBON POLICE HELMET
---
A lightweight carbon fiber modular helmet for police officers
The Seer S1651CF is the police version of the popular LS2 Helmets Advant X Carbon modular helmet. The All New LS2 Advant X Carbon Police Modular Motorcycle Helmet features an all-carbon fiber shell made from 9K carbon fiber on both the outer shell and chinbar. The 9K carbon fiber is woven in a 1x1 pattern, also known as plain weave. This type of carbon fiber is used in aerospace and automotive industries to add selective directional reinforcement without adding considerable weight.
The Advant X Carbon features the best 180-degree flip, modular motorcycle helmet for police motorcycle officers. Building upon the success of the original Valiant and Valiant II, LS2 helmets has completely redesigned the New Advant X helmet. The Advant X retains all of the features and functions of the Valiant models, but with an updated look.
The ability to quickly and easily convert the helmet from a full face to an open face helmet, and back makes it a versatile helmet for police motorcycle officers who experience a variety of road and environmental conditions on a daily basis.
Custom paint, metal helmet badges, and vinyl decal application available. Call us for more information.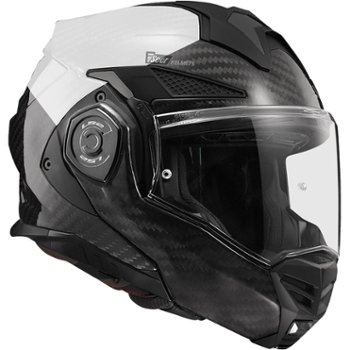 Available Now!