Dave Design Helmet Trophy "Racing Style Makers" | Super Seer
---
By Staff Writer - February 22, 2023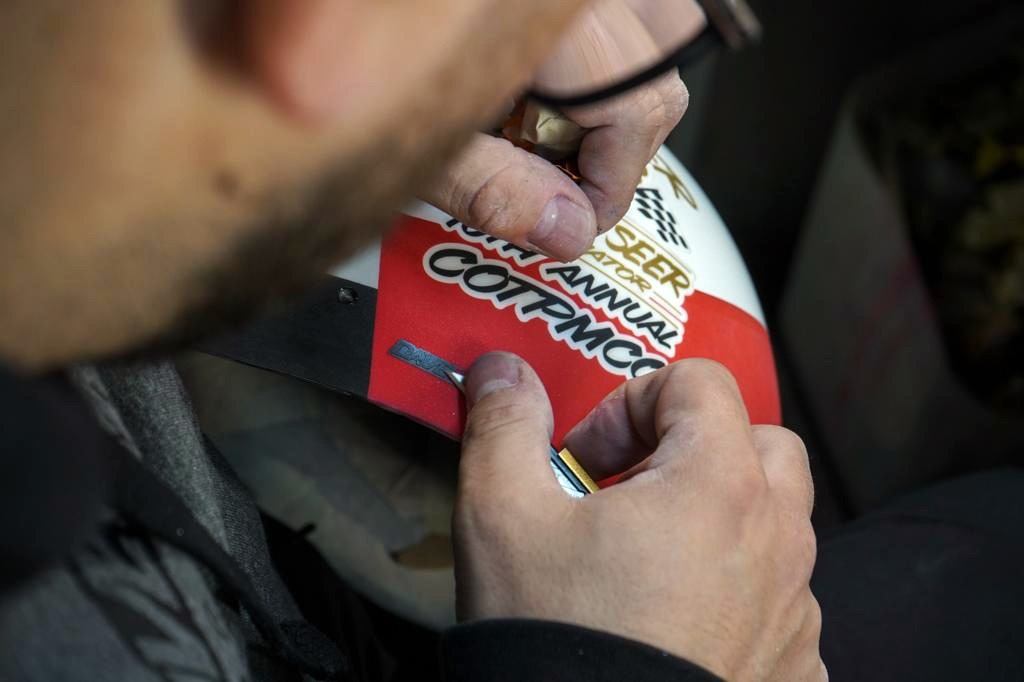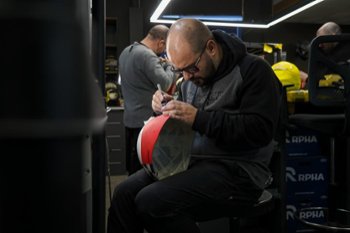 In 2023, the Capital of Texas Police Motorcycle Chute Out will celebrate its 10th Anniversary. Super Seer is honored to have been a part of this event from the very first year. "The Chute Out is a special event for us" said Kevin Smith, Vice President of Super Seer. "As a Title Sponsor of the Super Seer Eliminator event we wanted to do something above and beyond. We didn't want to hand out another dust-collecting trophy, so we thought big. We thought what if we create a custom-designed, one-of-a-kind trophy helmet? In the world of motorsports from Superbike, MotoGP, World Rally Championship and bicycle racers, DAVE DESIGNS has created the best helmet designs for some of the best racers."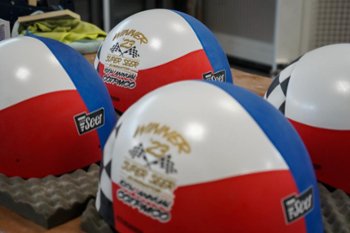 When asked about the process Kevin said, "For us it was a no brainer. We had to collaborate with DAVE DESIGNS. The process started in May of 2022. We approached Founder and CEO Dave Mata about the idea. To our surprise Dave was just as excited about the opportunity as we were!" When asked about the project Dave said, "I'm glad that DAVE DESIGNS can be part of this project. We are excited to do a very special design for this event."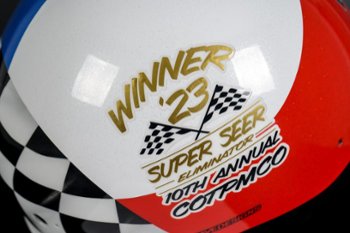 The design is a unique blend of the Texas state flag combined with a racing black/white checkered flag. Each color has been carefully hand picked and hand blended by the DAVE DESIGNS team of artists and designers to create a custom color combination which is unique and stunning. The left side of the helmet displays the WINNER of the 2023 Super Seer Eliminator logo. "One hundred fifity competitors will compete head-to-head to win this prestigious prize, but only 1 will walk away as the Winner of the Super Seer Eliminator. When you look at this custom Dave Design helmet trophy, there is no doubt that it is being worn by a race winner from Texas," said Kevin.
By the time the helmet gets handed to the Winner of the Super Seer Eliminator, it will have traveled over 11,000 mi through 9 different time zones.

The Super Seer Eliminator takes place at 0800am CST on Thursday, 3/2/2023 in Buda, TX. The Super Seer Eliminator is part of the 10th Annual Capital of Texas Police Motorcycle Chute Out.


About Capital of Texas Police Motorcycle Chute Out - The Chute Out is a combined effort between seven local Law Enforcement Agencies, each one plays an important role in overall organization and success of the annual event. Over the past nine years, COTPMCO has raised over $177,000 to donate to various charities and causes. Moving into the 10th year COTPMCO has hosted as many as 165 riders during a single year and had the privilege of accommodating riders from 23 different states, Canada, Mexico and Brasil. Information on the Capital of Texas Police Motorcycle Chute Out can be found on their website.

About DAVE DESIGNS - For more than ten years, DAVE DESIGNS has grown with each opportunity and reinforcing the services they offer. Five years ago, they intiated an exponential growth effort to create solid offerings based on team work and the mix of different graphic concepts by completing each project with the maximum innovation and quality possible to become the authoriy in the sector on a global scale. Information on DAVE DESIGNS can be found on their website.

About Super Seer Corporation - Super Seer was started by Mr. Robert (Bob) Smith in 1967. At that time Super Seer was making double-lens goggles for the ski and snowmobile industry. Through various acquisitions Super Seer acquired general duty / riot police helmets. In 1978 Super Seer Corporation purchased the Law Enforcement assets of the Buco Helmet Division of American Safety. Since 1978 Super Seer Corporation has been an American manufacturer of police helmets including motorcycle, riot, general duty, mounted and correctional helmets. Super Seer also manufactures American-made touring half-shell motorcycle helmets for the recreational motorcycle industry. The Seer Helmet brand is known worldwide as a quality product for law enforcement officers and civlian motorcycle riders.
Stay tuned to Super Seer's social media accounts for updates and video of the upcoming
Super Seer Eliminator!
Go Back