SENA 20S EVO BLUETOOTH HEADSET FOR HALF-HELMETS
Add the functionality of Bluetooth to your Seer Helmet with the SENA 20S EVO Bluetooth headset! This headset can be added at any time to your New Seer Helmet. The SENA 10R Bluetooth headset is also available as an Integral headset that can be added to your New Seer helmet (during helmet manufacturing only).
THE 20S EVO GETS NEW HD SPEAKERS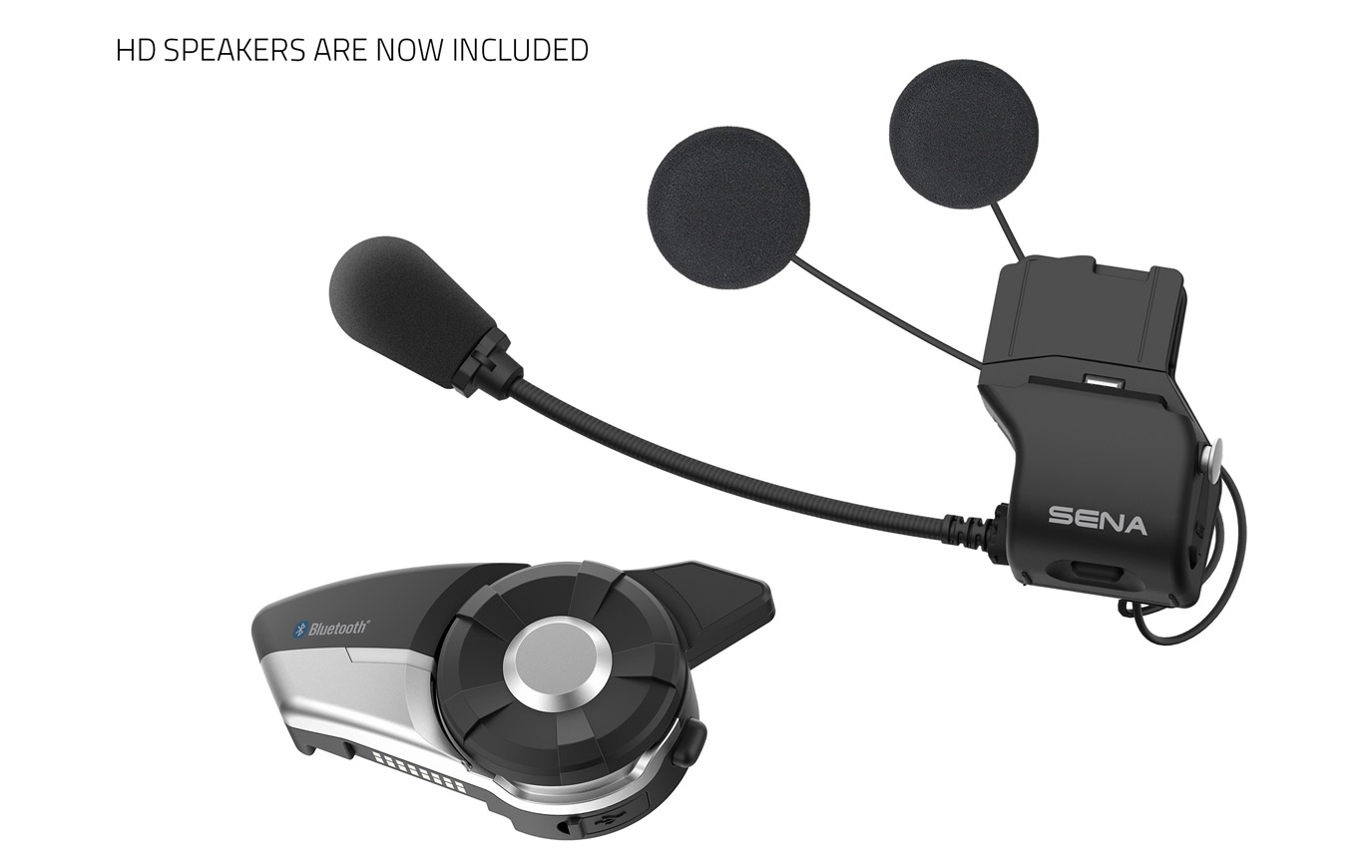 The 20S EVO was designed with a fixed type, shark fin antenna as opposed to the flip up antenna of the original 20S. This sleek antenna design improved group Bluetooth intercom stability and distance, while updates to the hardware allow for a more robust general performance. In addition to its original updated design, the latest upgrade for the 20S EVO are Sena's premium HD speakers. Designed with a beveled taper, the HD speakers fit easily into helmet pockets and give riders a more comfortable experience. Sena's HD speakers offer a marked increase in volume, bass boost, and clarity.



THE KNOCKOUT FEATURE SET YOU KNOW AND LOVE
The 20S EVO delivers HD-quality audio allowing riders to listen to music, GPS and make or take calls. Sena's Advanced Noise Control™ helps so wind noise doesn't interfere with incoming or outgoing audio, while the innovative Bluetooth intercom for motorcycles allows you to talk with up to 7 other riders at distances up to 2 km (1.2 miles) away.


IT MULTITASKS, SO YOU CAN FOCUS ON THE MORE IMPORTANT TASK
Sena 20S EVO Audio Multitasking™ technology allows you to have motorcycle helmet intercom conversation while simultaneously listening to music or GPS navigation. Forget the frustrations of interruption-based audio functions of past Bluetooth communication devices, the 20S EVO's audio features won't interrupt each other, but simply overlay for a smooth listening experience.



CRITICAL COMMUNICATION AND WIRELESS CAPABILITIES
Bluetooth 3.0 technology provides the capability to listen to and share music with the use of Bluetooth playback controls, and offers Multipoint Bluetooth technology for dual mobile phone usage. Tune into your favorite radio stations with the integrated FM radio tuner. Even if your companions don't have Sena gear, the SPH10H-FM uses the Universal Intercom™ protocol, which allows your gear to work with their gear, regardless of brand. Access to the half helmet Bluetooth intercom will come in handy while out on the road.


CONTROL MADE SIMPLE
Setting up and pairing your 20S EVO is simple with Sena's motion sensor technology. Pair your Bluetooth devices with a simple shake of the 20S EVO or use hands free voice commands for complete feature control while maintaining focus on the road. The optional Remote Controls allow for even more additional ways to handle your Sena.





Features:
Universal Intercom: Allows allows pairing to other brands of Bluetooth headsets
Bluetooth 4.1
Bluetooth intercom up to 2.0 km (1.2 miles) in open terrain
Ultra slim & feather light
Four-way conference intercom
Conference phone call with intercom participant
Multipoint for mobile phone+GPS
Voice prompts
Bluetooth stereo headset for Bluetooth audio devices such as MP3 players
Bluetooth music playback control by AVRCP: Play, pause, track forward and track back
Sufficient sound level with integrated audio booster
Bluetooth handsfree for Bluetooth mobile phones
Bluetooth headset or stereo headset for Bluetooth GPS navigation
Water resistant for use in inclement weather
Crystal clear and natural sound quality
Can be used while charging on road trip
Individual volume control for each audio source
Firmware upgradeable
Peace of mind - thanks to the two-year warranty
General Specifications:
Talk time: up to 13 hours
Stand-by time: 6 days
Intercom working distance up to 900 meters (980 yards) in open terrain
Operating temperature: -10°C ~ 55°C (14°F ~ 131°F)
Dimensions: 94.7 mm x 48.3 mm x 25.5 mm (3.7 in x 1.9 in x 1 in)
Charging time: 2.5 hours
Type: Lithium polymer battery
Weight:
Audio Specifications:
Advanced Noise Control: Improved wind and engine noise reduction
Built-in SBC Codec
Noise cancellation
Wind noise reduction
Wide volume control
Sample rate: 48kHz (DAC)
Bluetooth Specifications:
Profiles: Headset Profile, Hands-Free Profile (HFP), Advanced Audio Distribution Profile (A2DP), Audio Video Remote Control Profile (AVRCP)
Bluetooth 4.1
CE, FCC and IC Certificates
Includes:
20S EVO
S-9099-7 Sear Ear Comm Muffs
Allen Wrench
Speaker Port Cover
Speaker Pads (Thick)
Boom Microphone Holder
Hook and Loop Fasteners for Wired Microphone
Hook and Loop Fasteners for Speakers
Wired Microphone
Universal Helmet Clamp
HD Speakers
2.5mm to 3.5mm Audio Cable
Speaker Pads (Thin)
Rubber Pads
Foam Speaker Covers
Hook and Loop Fasteners for Boom Microphone
Microphone Sponges
Wired Boom Microphone